Pandemic
We all are taking the global emergency seriously. Everyone is doing their part to keep themselves and everyone else safe. We recognize that sometimes this means switching around our regular priorities. Many people have forgone appointments that are a part of their regular routine. For example, people have stayed safe by skipping the barber or salon altogether.
If you had a regular dental cleaning with us during the first few months of the quarantine wit us, then we may have postponed your appointment for later. The close quarters that dentist appointments involved were too risky. And if you had a dental cleaning with us in the past couple of months, you already know the precautions we have been implementing to make a safe environment.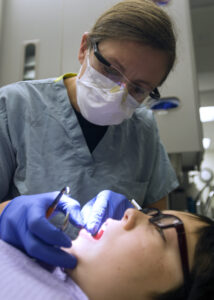 What You Should Do
Recently, the World Health Organization advised that everyone put off their usual dental cleanings. They specified that this only applies to non-emergency and nonessential dental care. So, if you are not worried about the condition of your teeth, then it would be safer for your overall health to stay home.
If you have a dental emergency, on the other hand, it is more imperative that you come in to get the problem fixed. This could be tooth pain or toothache, a likely cavity, or you are in need of a root canal. The crucial point to understand here is that the health of your teeth and gums is important when maintaining your overall health as well. Therefore, we cannot completely stop all dental appointments.
While you should reschedule a regular cleaning, not all are expendable. If the last checkup we saw you for, we had some concerns, then you should call and talk to your dentist before staying home. Perhaps you were suffering from progressing gingivitis or cavities, last time. In this case, we want to make sure that the problem has receded.
What We are Doing
The key though is to access the risk to yourself. More at-risk populations might be gambling too much to get their teeth cleaned. We do our best to make a safe environment here so that everyone can get what they need.
We are operating with a reduced staff at all times. And all staff are wearing gloves, face masks, and face shields for your protection and theirs. We make sure that there is only one patient in the building at once, check their temperatures as they come in, and have them disinfect and wear masks.
Contact Us
If you are experiencing a dental emergency, though, you should not hesitate to call in. Below you can find the contact information to any of our seven locations in the Greater Houston area. We are sure to have on close to you.