Posted on August 23, 2023 by gentledental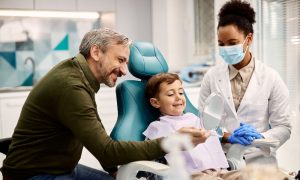 Ensuring your child has a healthy smile starts with regular dental visits. However, for many children and parents, a dentist trip is a nerve-wracking experience filled with unknowns. Knowing what to expect at your child's dental visit can minimize these anxieties and pave the way for a lifetime of good oral health habits.
Before The Visit
Preparing your child for their dental visit begins with a simple, age-appropriate conversation about what they can expect. Avoid using words like "pain" or "hurt." Instead, explain that the dentist is a friendly doctor who will help keep their teeth clean and strong. You might say, "The dentist will count your teeth and brush them with a special toothbrush." Reading books or watching videos about visiting the dentist can also be a helpful way to familiarize your child with the experience.
Bring your child's medical and dental history, including any insurance information, on the day of the appointment. Also, bring a list of your child's medications. And consider bringing a favorite toy or blanket that will comfort your child during their visit. Arrive early to complete any necessary paperwork without feeling rushed if this is your child's first visit. Remember, the more relaxed and prepared you are, the more at ease your child will feel.
During The Visit
The most common dental checkup for children includes three distinct steps: examinations, dental cleanings, and oral X-rays. During the examination, the dentist will check your child's teeth for cavities and evaluate their overall oral health. This evaluation includes a bite alignment inspection, a gum, jaw, and oral tissue examination, and a progress check regarding any incoming teeth in older children. The dentist may use a small mirror and a light to view the teeth and gums better.
After the examination, a dental hygienist performs the cleaning. Using special instruments, the hygienist will gently remove plaque and tartar buildup that regular brushing can't reach, followed by thoroughly flossing and polishing the teeth. You can request they apply a fluoride treatment for children who are old enough to receive it to help protect their teeth against decay. Finally, X-rays are a common and vital part of children's dental health care. They play a crucial role in diagnosing dental issues that may not be visible during a regular oral examination.
After The Visit
After each visit, the dentist will provide guidance and recommendations tailored to your child's specific needs. This guidance can include advice on effective brushing and flossing techniques, dietary suggestions to protect and strengthen teeth, and the use of dental products suitable for your child's age. Encouraging good oral hygiene habits at home and fostering a positive attitude towards dental care is important. Remember, early prevention and consistent care are key to ensuring your child's smile stays healthy and bright for years to come.
Knowing what to expect at your child's dental visit ensures an easier and more enjoyable experience for you and your little one. Contact our friendly Gentle Dental team today to learn more about our family-friendly general dentistry treatments and how we can enhance your smile.